Filter By:
Show More Brands

---

Show Fewer Brands
Show More Sizes
Show Fewer Sizes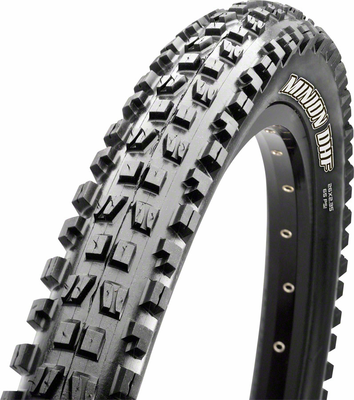 $33.00 - $112.00
$33.00 - $112.00
Up to 21% Off
The Minion DHF has become the benchmark for riders wanting maximum control in loose and muddy conditions. - Directional ramped center knobs provide low rolling resistance - Minion signature channel cut side knobs provide excellent cornering traction - Intended use: loose, loose over hard, medium, wet
Tough enough for the meanest streets - Durable enough for urban assault, park riding, commuting, cargo bikes, etc. - Grooved slick tread design - Wrap-around tread pattern As the original urban assault tire, we designed the Hookworm to take the abuses of the most aggressive street riders. Bead-to-bead tread provides durability and traction whether you're dropping staircases, grinding rails, or riding in your local skate park.
Refined, redesigned, and ready to shred any line - Ramped and siped tread to roll fast and track straight under braking - Wide trail (WT) casing specs are optimized for 30-35mm inner width rims With side knobs borrowed from the legendary Minion DHF but widened to provide more support, the DHR II corners like no other. The center tread features ramped leading edges to improve acceleration and sipes to create a smooth transition when leaning the bike. Paddle-like knobs on the center tread dig in under hard braking and help keep the bike under control. Pair it with a Minion DHF up front for the ultimate aggressive trail riding tire combo!